So did you guess correctly which one of our kits Elizabeth used? Here's a little more information on how she turned the https://www.coolkatzcraft.com/table-for-two-breakfast-nook Intrigues®. into an outdoor yard.
Looking at the Nook I realised that if you flip the bay window, and fit it into the frame you could easily create an outdoor space.
There are a couple of options. You could install the entire window as it was designed to fit, or with a few tweaks you could rearrange the window pieces to create a porch and use a faux door. In this case I was lucky enough to find a door in a paper collection from Minty Designs, which worked perfectly.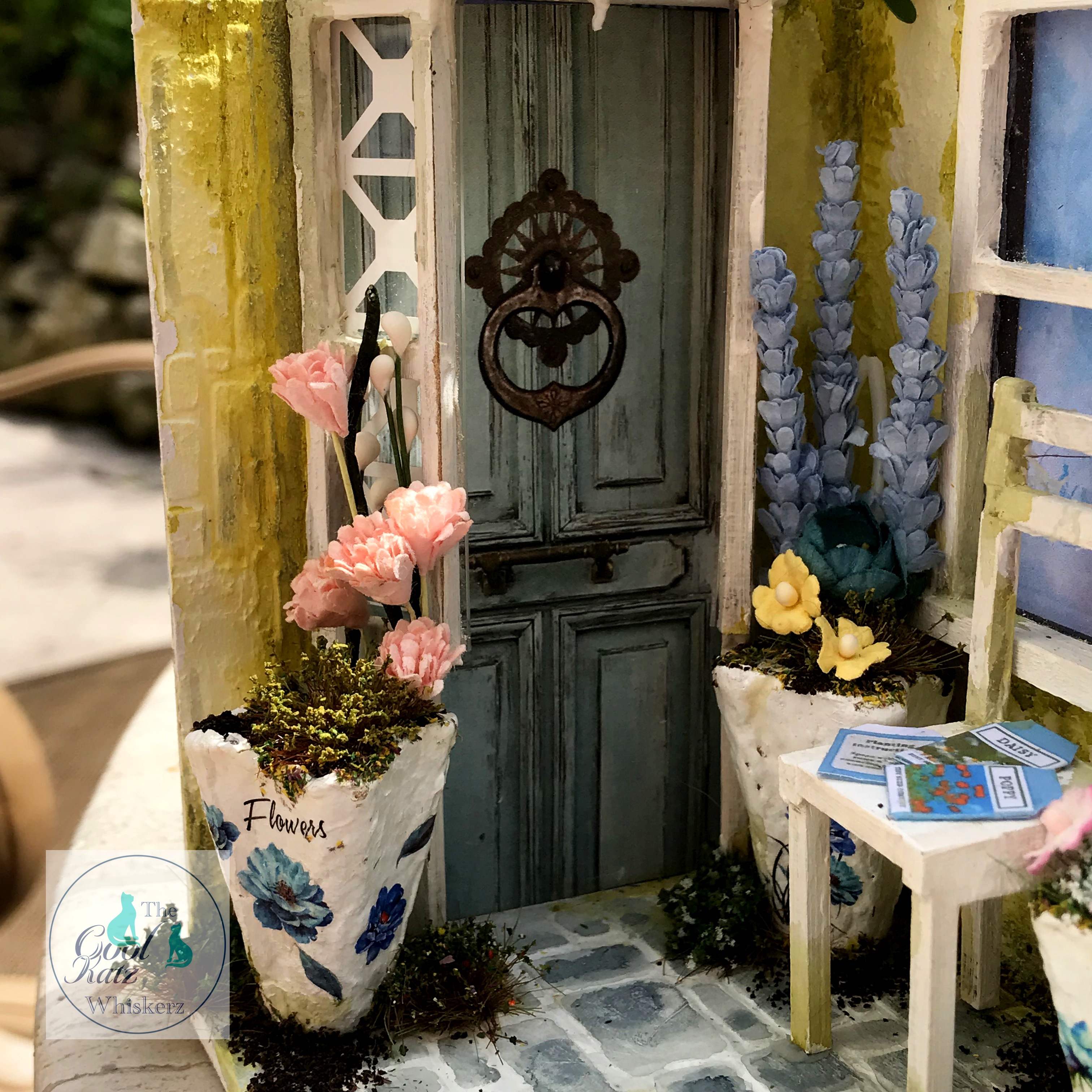 Working in such a small scale is great fun, and I love the illusion you can create using things that are around you.
Take those Planters and also the two wall planters for example..................Those were all created from a cardboard egg box. Trimmed down, painted with white gesso and then a nail decal added for decoration. They were filled with small pieces of kitchen sponge which was glued inside, and once it was dry a top layer of Tea Leaves was glued over the top, to create a layer of soil....Se what I mean about illusion............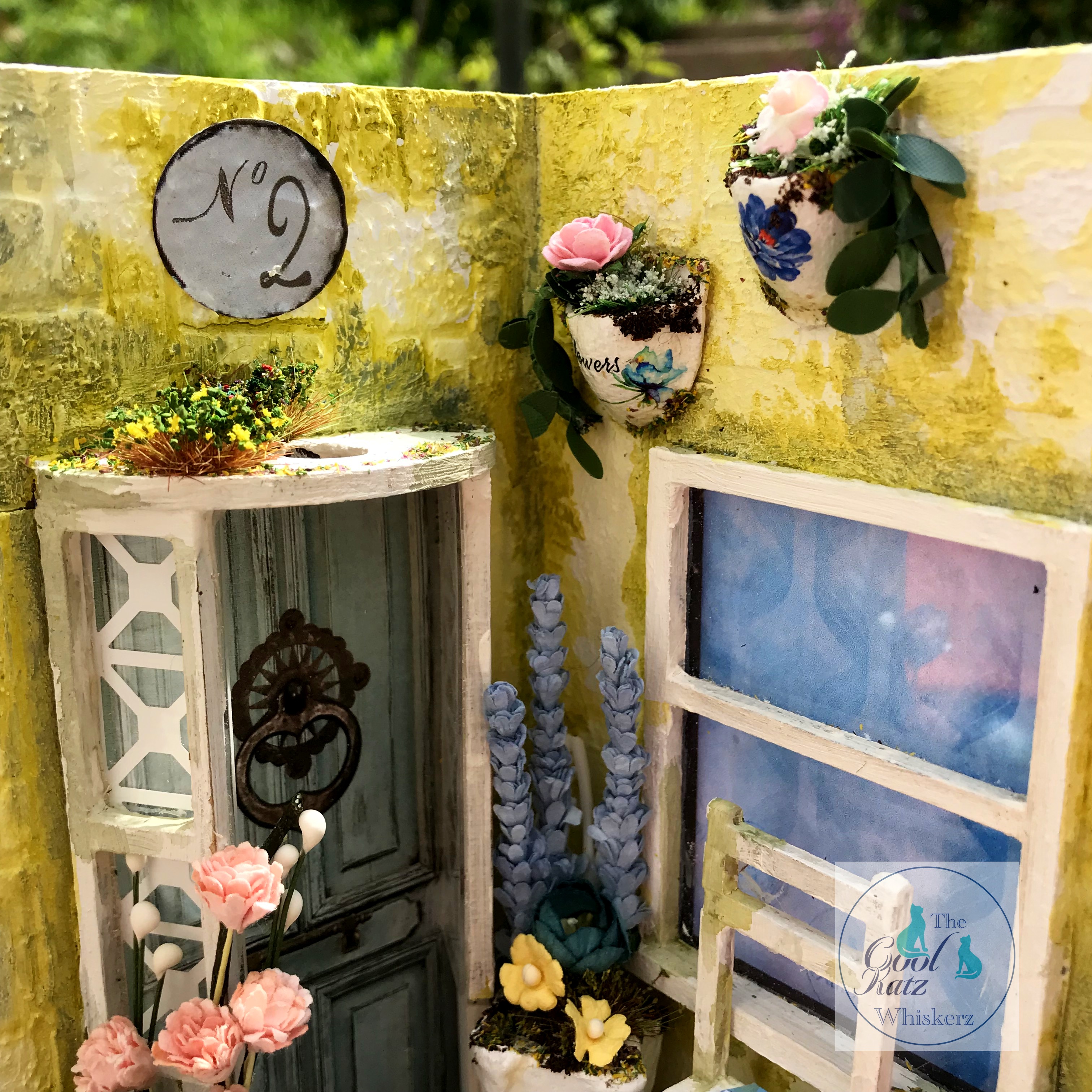 I raided my stash of flowers and chose the smallest of them to fill out the containers.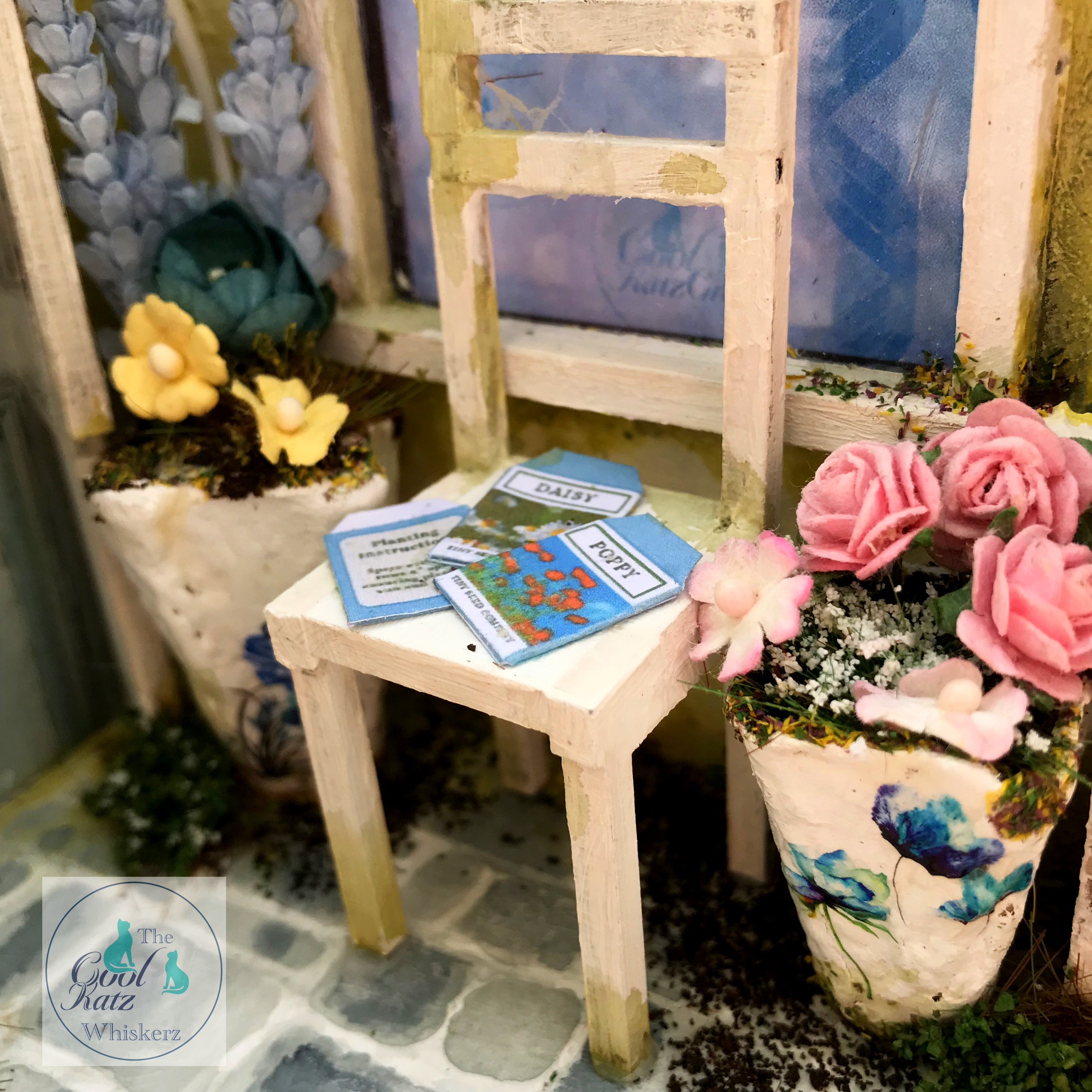 The stone floor is created using the All New Stone Wall Stencil and texture paste. Once it was dry I added several washes on very diluted acrylic paint. The first layer was a very pale grey all over the floor, including the grouted areas, after all they aren't stark white in real life. Followed by adding diluted paint to the individual stones, each layer getting slightly darker until I'd reached a colour I was happy with. I also pooled a little paint in places and let everything dry on it's own. Really happy with the finished effect, it has lots of tones just like real stone would do.
I decided that a keen Gardener lives here, and so the cupboard stayed to create a potting table. Minus the doors to allow access to the bottom shelf it makes a perfect workstation to hold smaller garden tools, empty pots and of course save the gardeners back from all that bending down. Back ache is the Gardeners nightmare! It's only a small back yard, so every inch of space is valuable...
I found a free download online of seed packets which were perfect for the Nook. And in honor of two of my dogs I chose Poppy and Daisy, and of course this gardener loves to grow Sunflowers.
There's an old worn chair ready for when a rest is needed, and of course a little treat. Can you see the bag of freshly baked biscuits on the potting table top?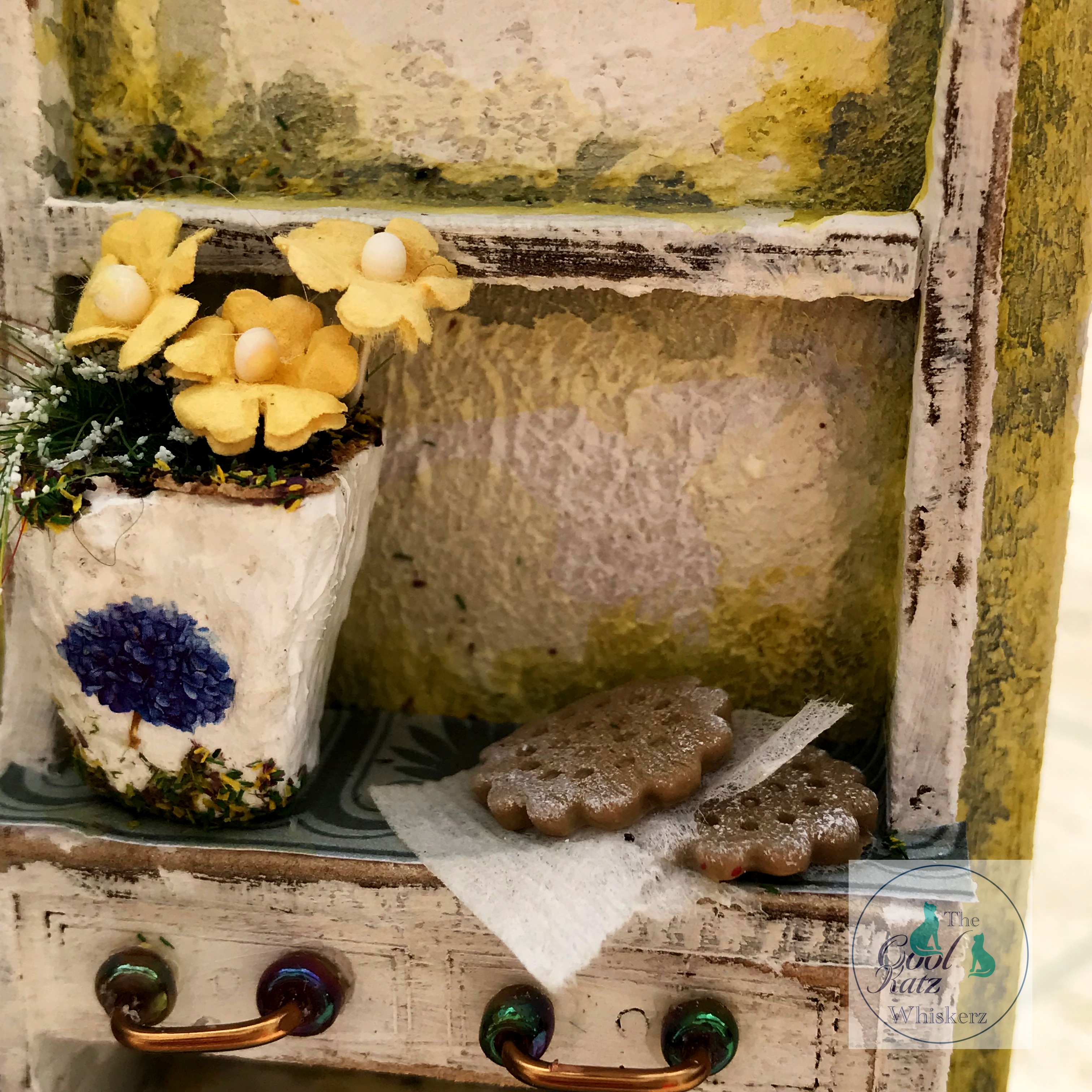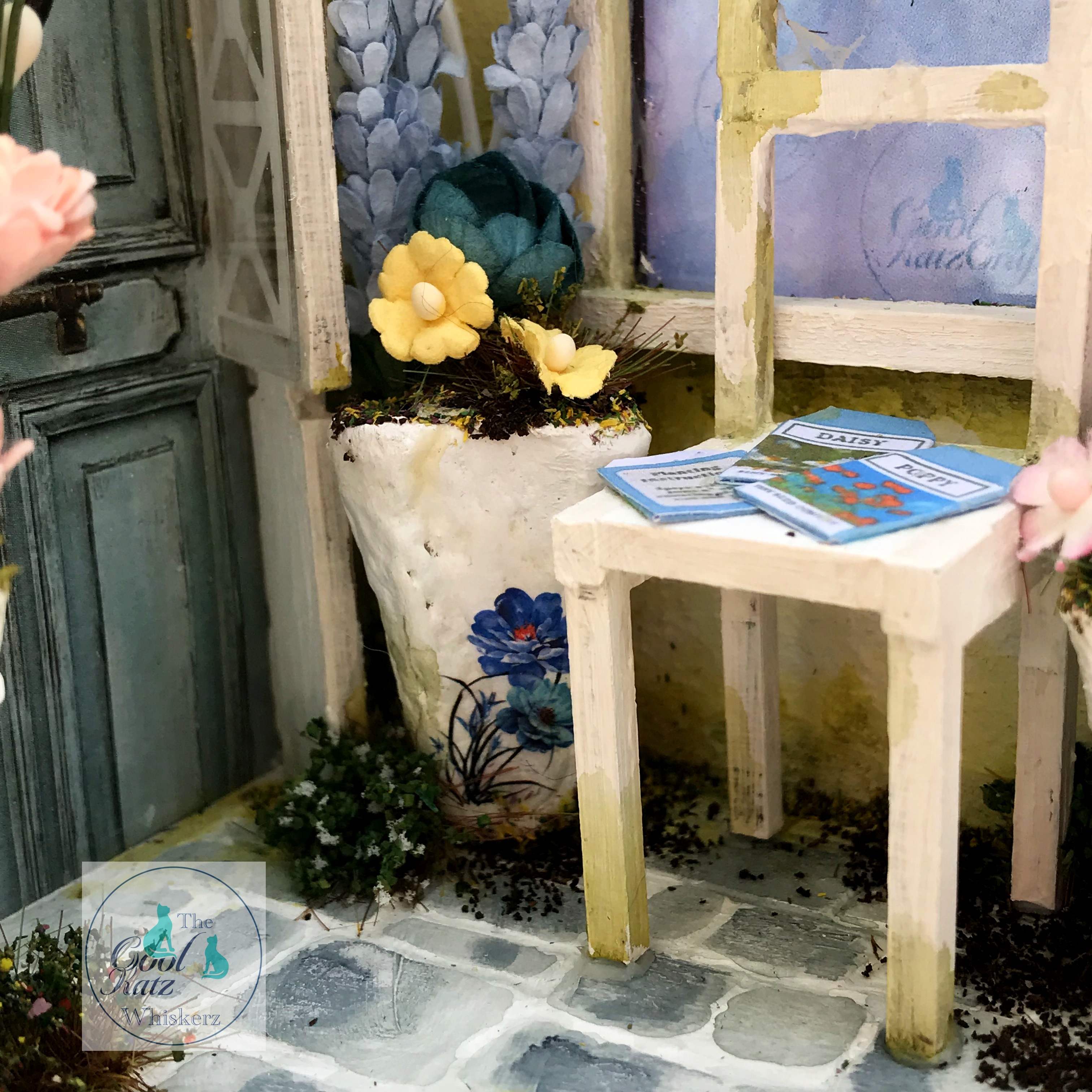 It's been a while since this house was painted so there are mossy patches everywhere, this is mainly thanks to our wonderful wet UK weather. So the walls have a little moss growing in places, and a little discolouration when the rain has landed.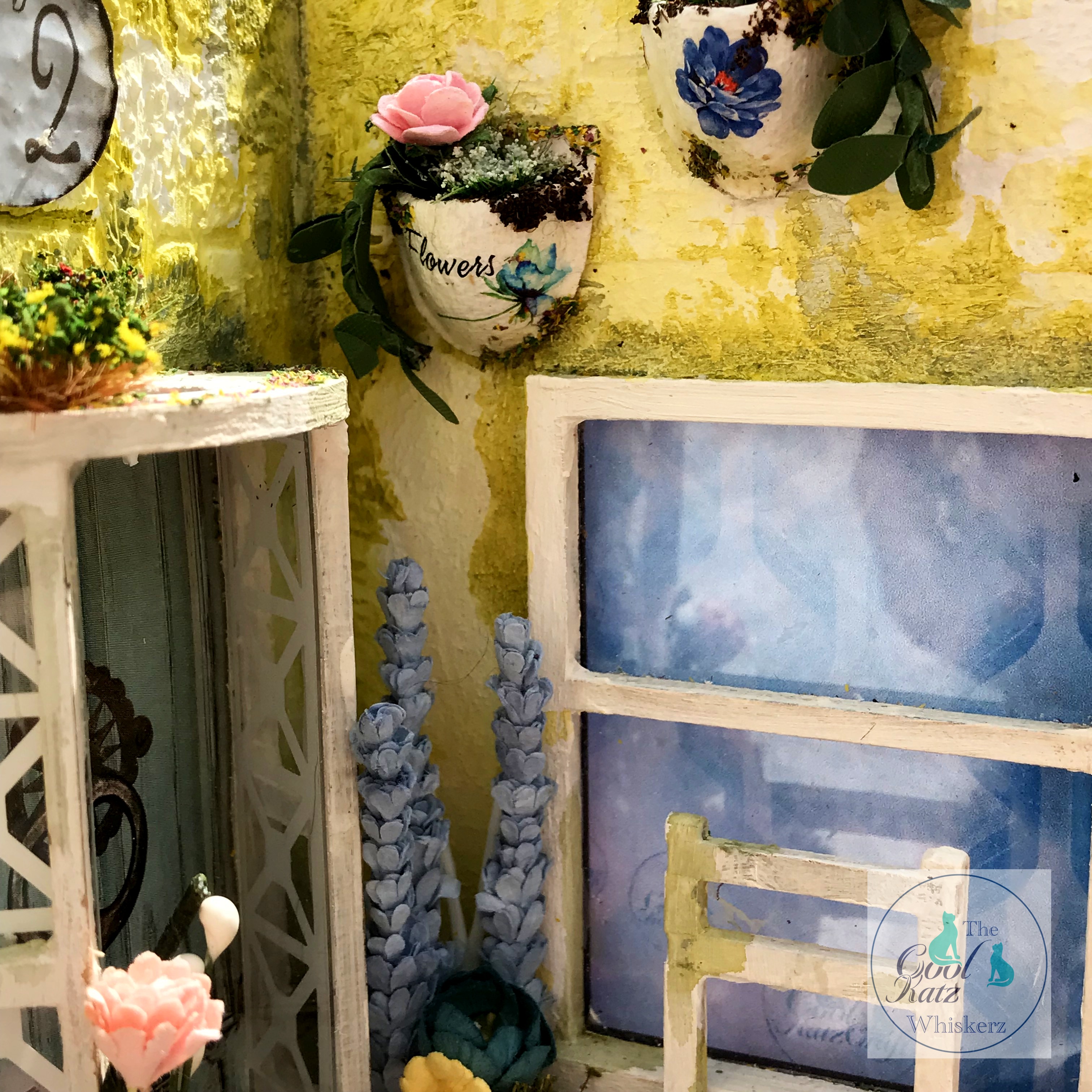 The moss has gathered on the roof of the porch and also around the edges of the yard.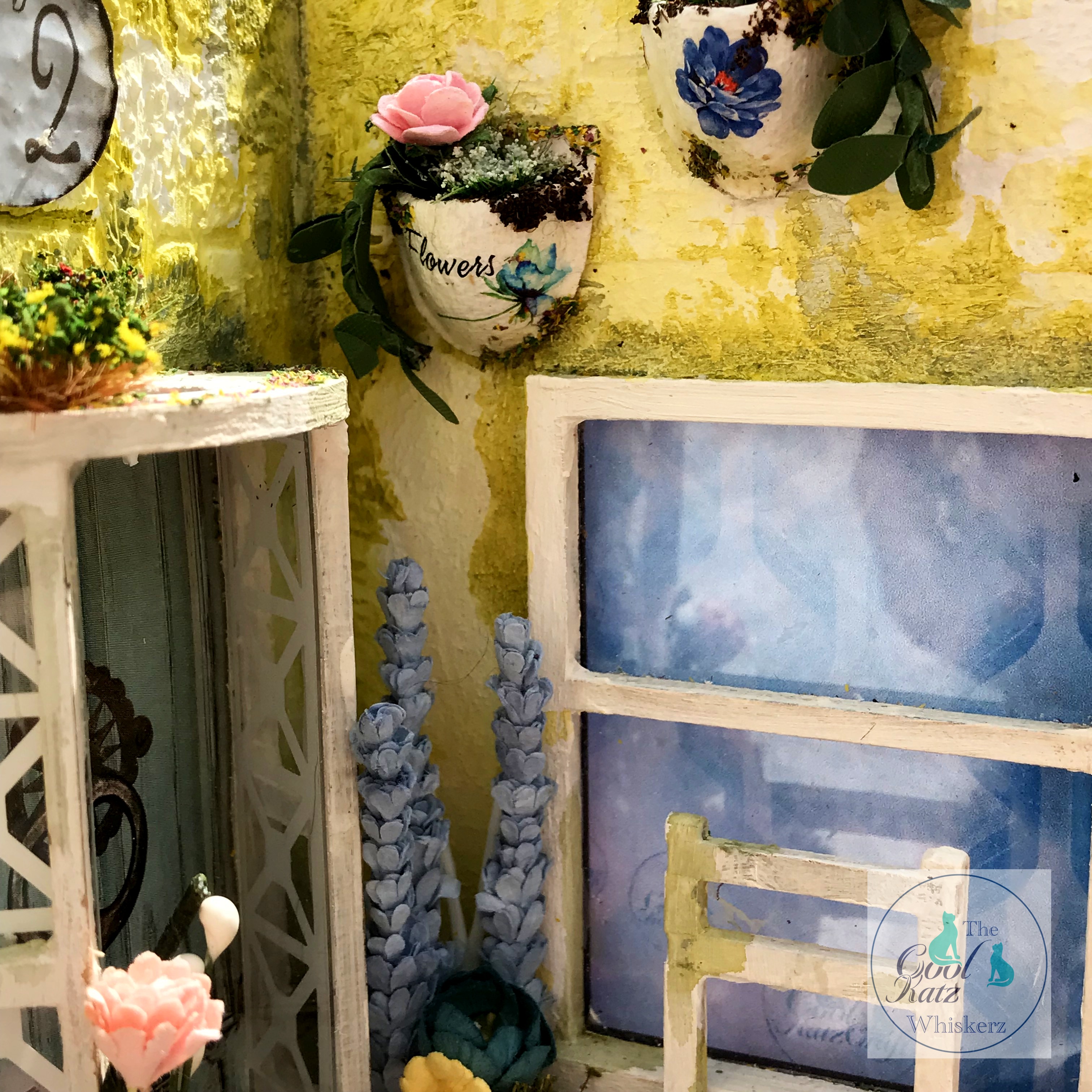 There are tufts of grass popping out from inbetween the stonework along with the odd plant or two, and there is soil waiting to be swept up. Again this is Tea.
I saw an idea on Pinterest for creating handles for miniatures and came across this one, which I thought was a great idea and I had all the bits needed, ie a small piece of copper wire and a couple of small beads. Trim the wire to size and glue a bead at each end, voila another illusion...... Now I used square beads which meant gluing them into place was a little easier, so if you are using little round ones, be patient and leave them to dry completely.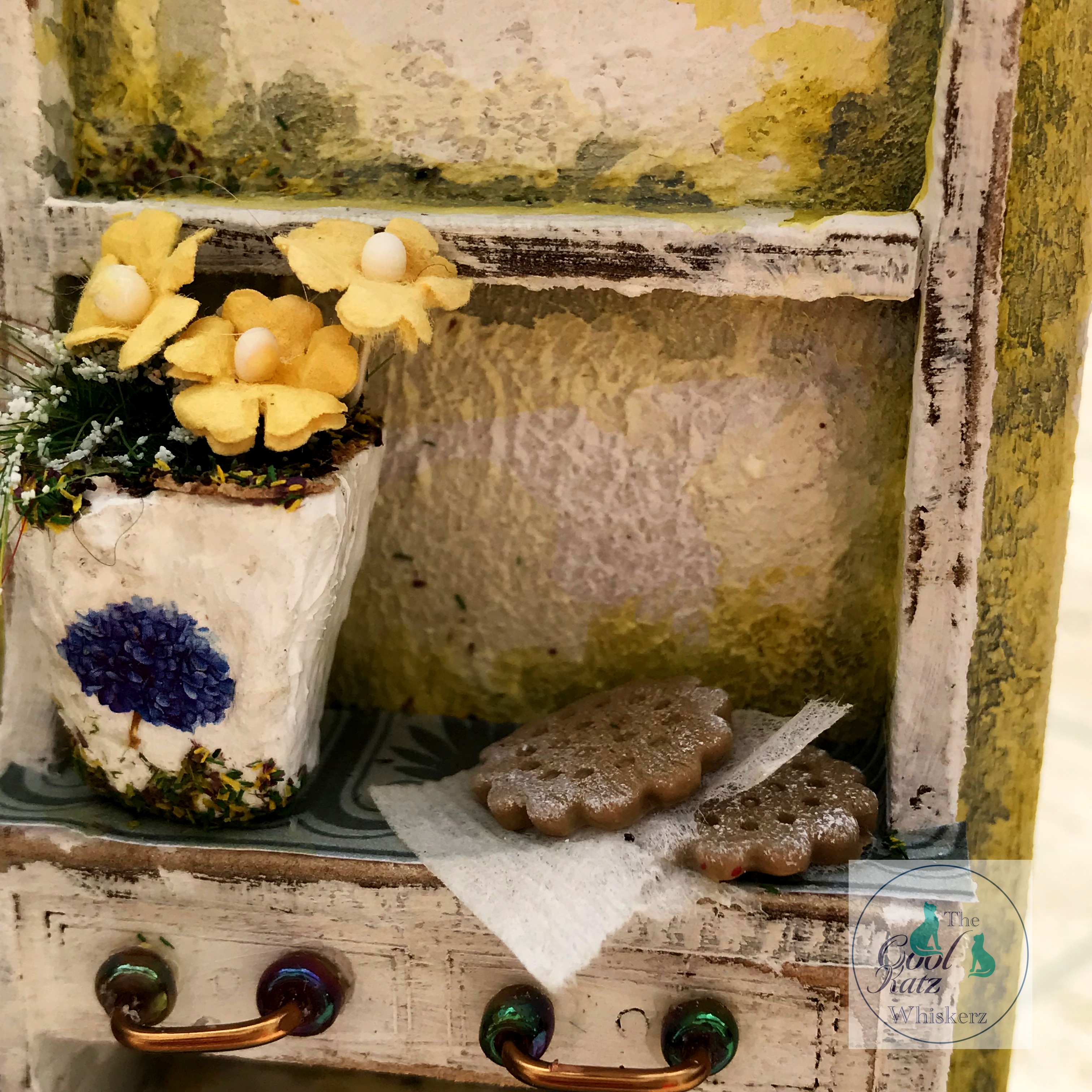 So there you have it, you've seen the inside and now you have seen how it can be flipped to create the outside.
How will you decorate yours?
Happy Crafting
The CoolKatz Team x
https://www.youtube.com/channel/UCHVLrneEbdNJp3EIhJoH4BA

https://www.facebook.com/groups/CoolKatzCraft
https://www.coolkatzcraft.com/table-for-two-breakfast-nook Intrigues®.