…Coolkatzcraft is featuring on Hochanda this Thursday (29th) at 8am & 12 noon on the Oakwood Archer shows. You will find it on the TV schedule under 'Make it with Maggie'. Featuring will be our very first "From Start to Finish" kit from the range. This one is a 2 in 1 project with a Roll-Top Box and Album.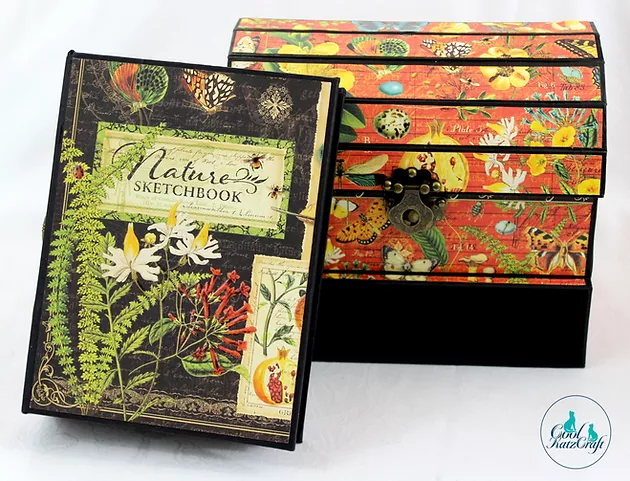 The kit contains precision cut greyboard to make an album and Roll-Top Box, box closures and handle, Architape (archival cloth tape), 12 sheets of 30cm x 30cm luxury black card, 10 neodymium magnets and an instruction book.
There will be a step by step video of how to put this together going on YouTube after the show.
If you don't want to make the album, there is an option for the Roll-Top Box with a drawer, picture to follow very soon!
Alternatively you can do the album by itself as a complete kit (without decorative papers) from our From Cover to Cover range.
We wanted something more than just an album and we love 3D projects; what started out on the back of an envelope developed into our roll-top box which can either incorporate an album or drawer. The inspiration was to create something to hold memorabilia of a special event e.g. holiday, wedding, birthday etc. This began our laser cutting experience with the help of our "laser master" Mark- who really makes the kits look good!
We wanted to produce kits that fitted together easily and had the essential components needed to complete the project – the fun part is you deciding how to decorate your project with whatever you fancy - paper, paint, mixed media etc.
We are lucky enough to have a fantastic design team and a very patient support team, without whom none of this would have been possible, so thank you so much everyone.
Hopefully you can join us as our journey begins at 8am & 12 noon, this Thursday (29th) on Hochanda; and we'd love it if you emailed in.
Thanks for dropping by,
Kay & Maggie