We have been so excited to launch the new On The Stage Book Nook. It
made it's first appearence at Stamperama, so if you were lucky enough to
be at he show in Harrogate you will have seen it in the flesh.

And for those of you that couldn't be at the show please meet our newest
member of the Book Nook Family.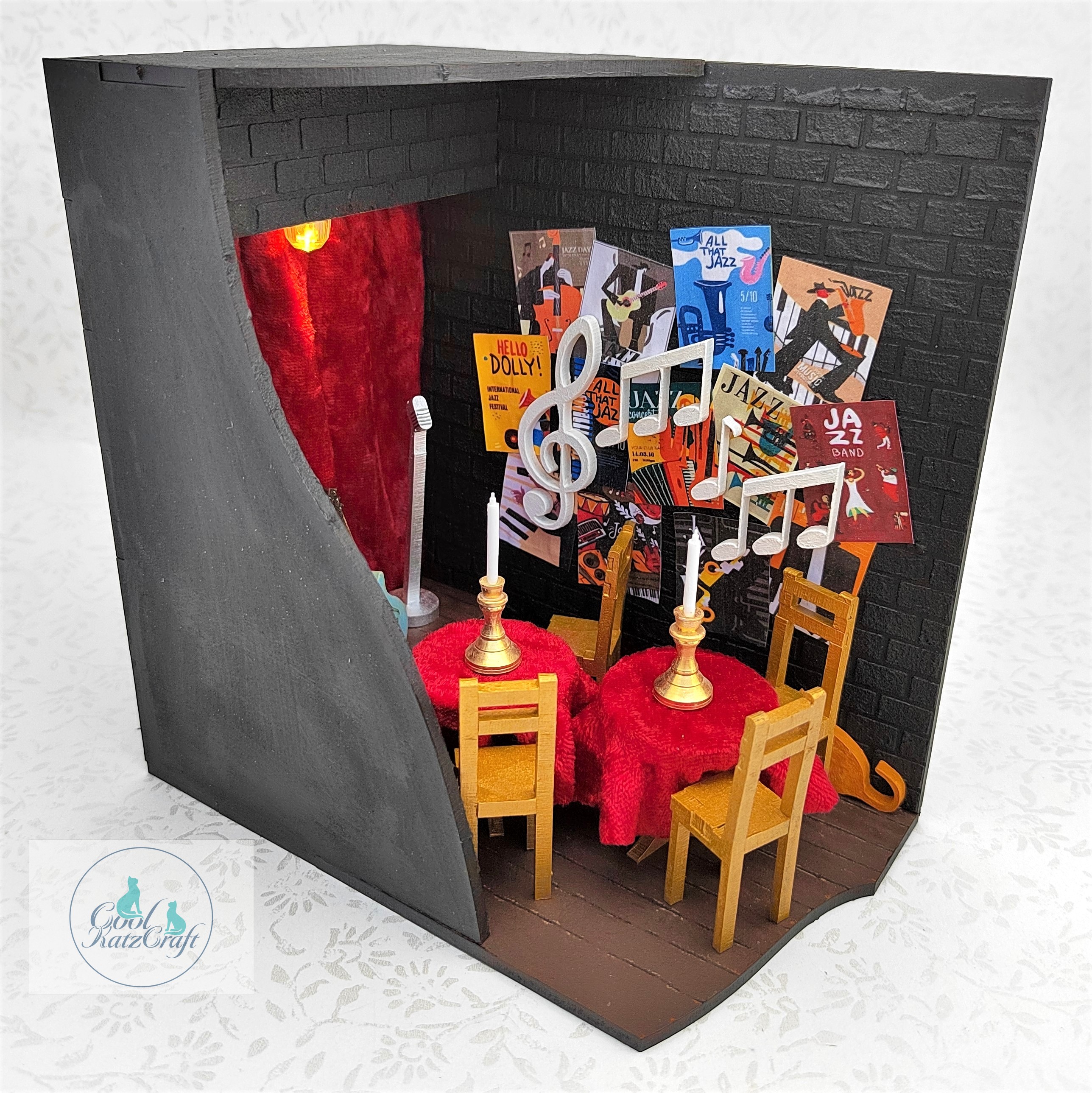 The latest release in the Book Nook Intrigue range is called 'On The Stage' and, as the name implies, this one will transport you to an intimate night club.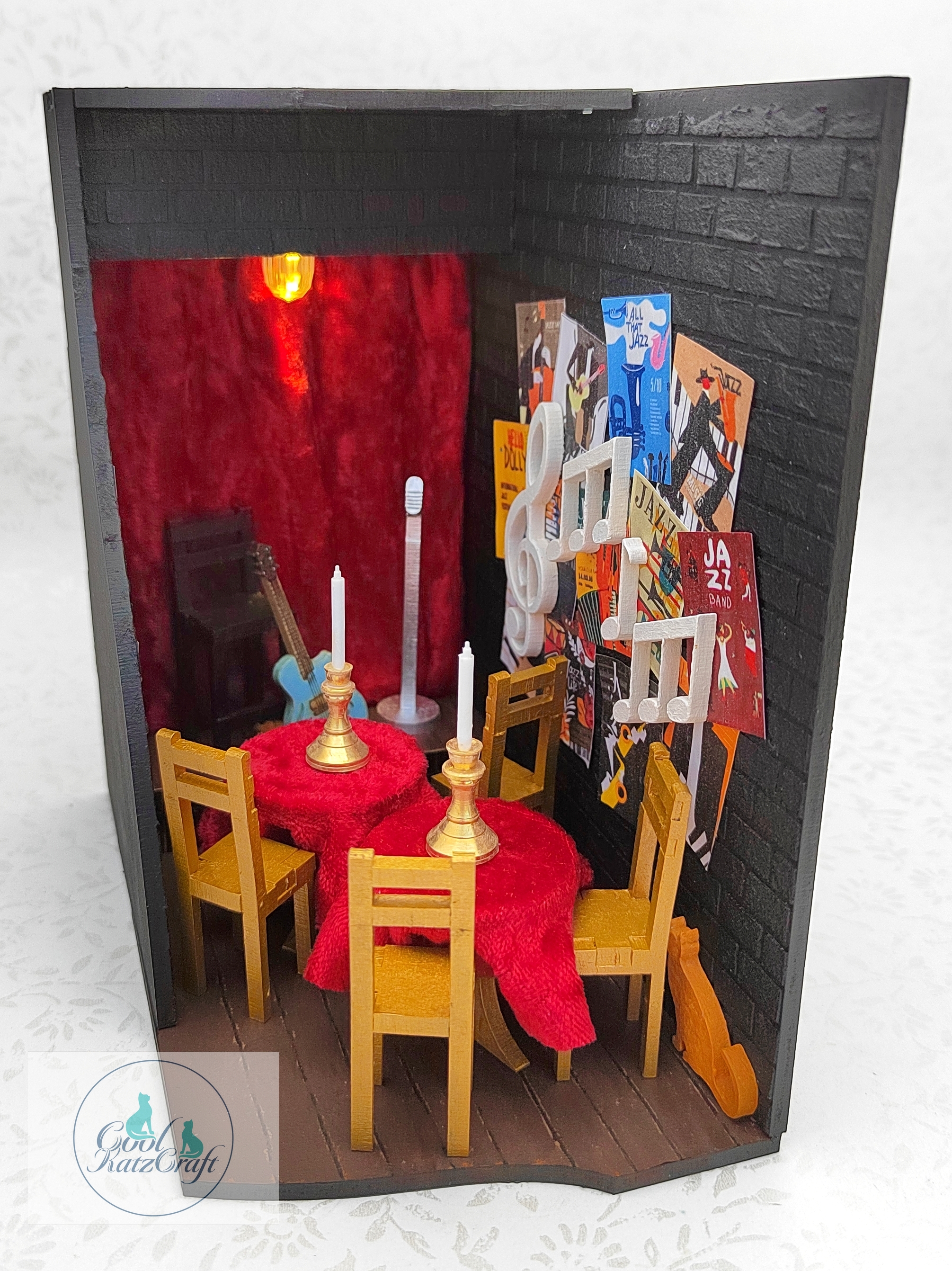 This version has a jazz club theme but it could also easily replicate other types of entertainment venue; from comedy to cabaret and more, this is a wonderful way to capture memories of your favourite nights out.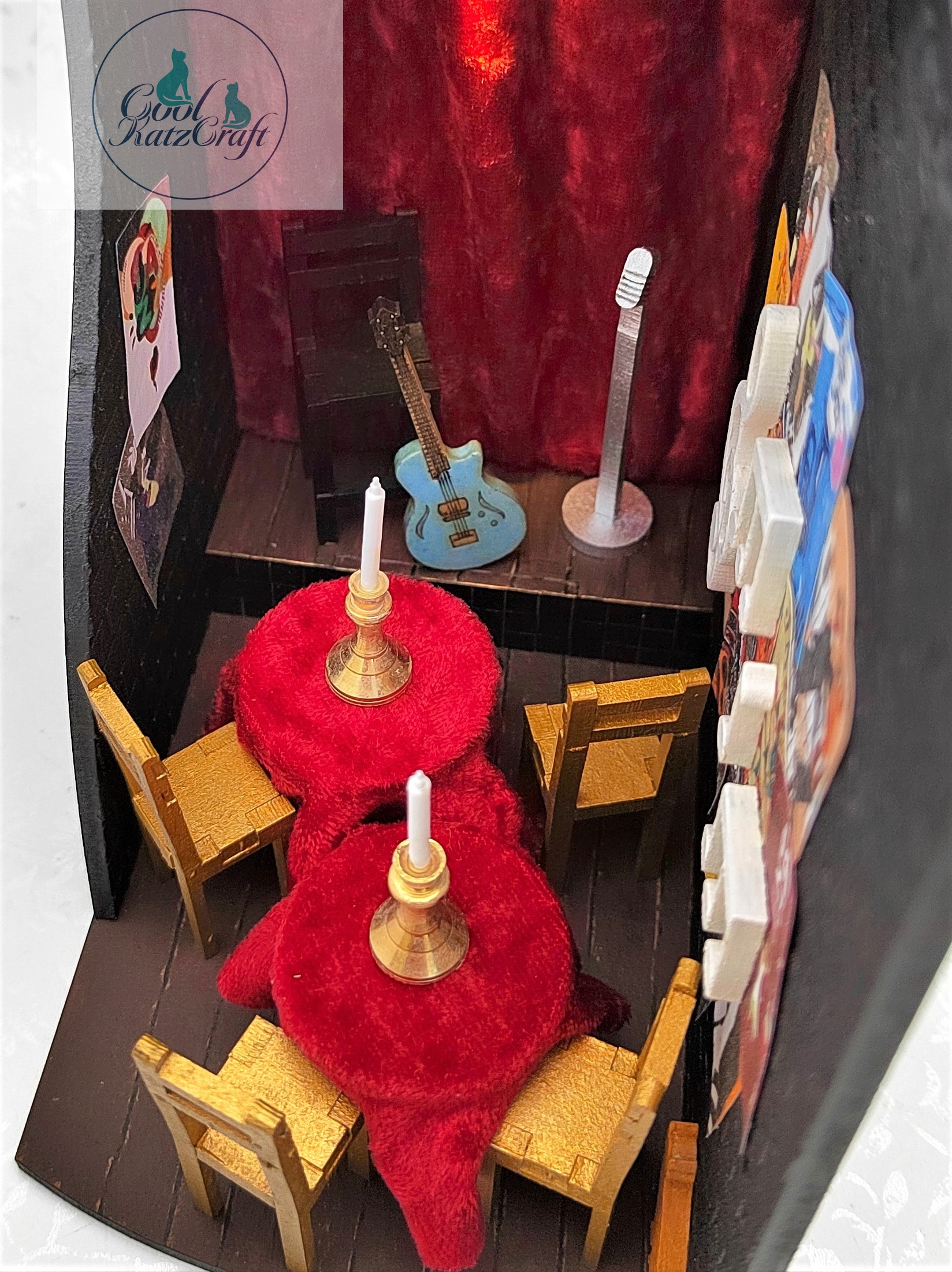 If you are planning on adding texture and depth to the walls it is well worth temporarily assembling the nook with some Orange Tiger Tape before running a pencil lightly around the inside edges to show which joining areas need to be avoided.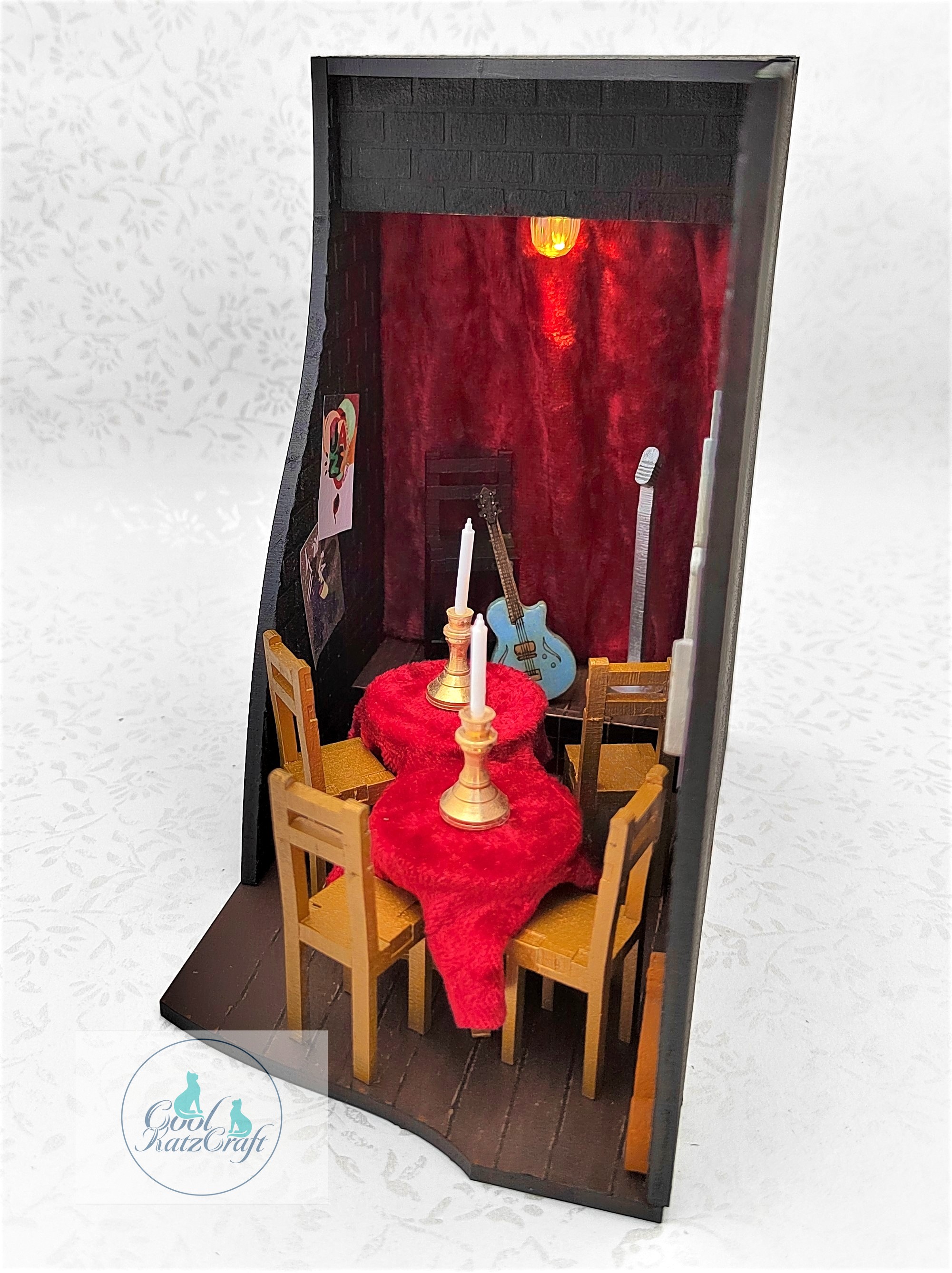 For this jazz club the two side walls and pelmet above the stage were covered in brickwork made by applying dimensional paste through the Brick Wall Stencil. Once dry they were painted with black gesso. The 'wooden floorboards' on the main floor and stage were drawn by hand with a black pen before being filled in with brown paint.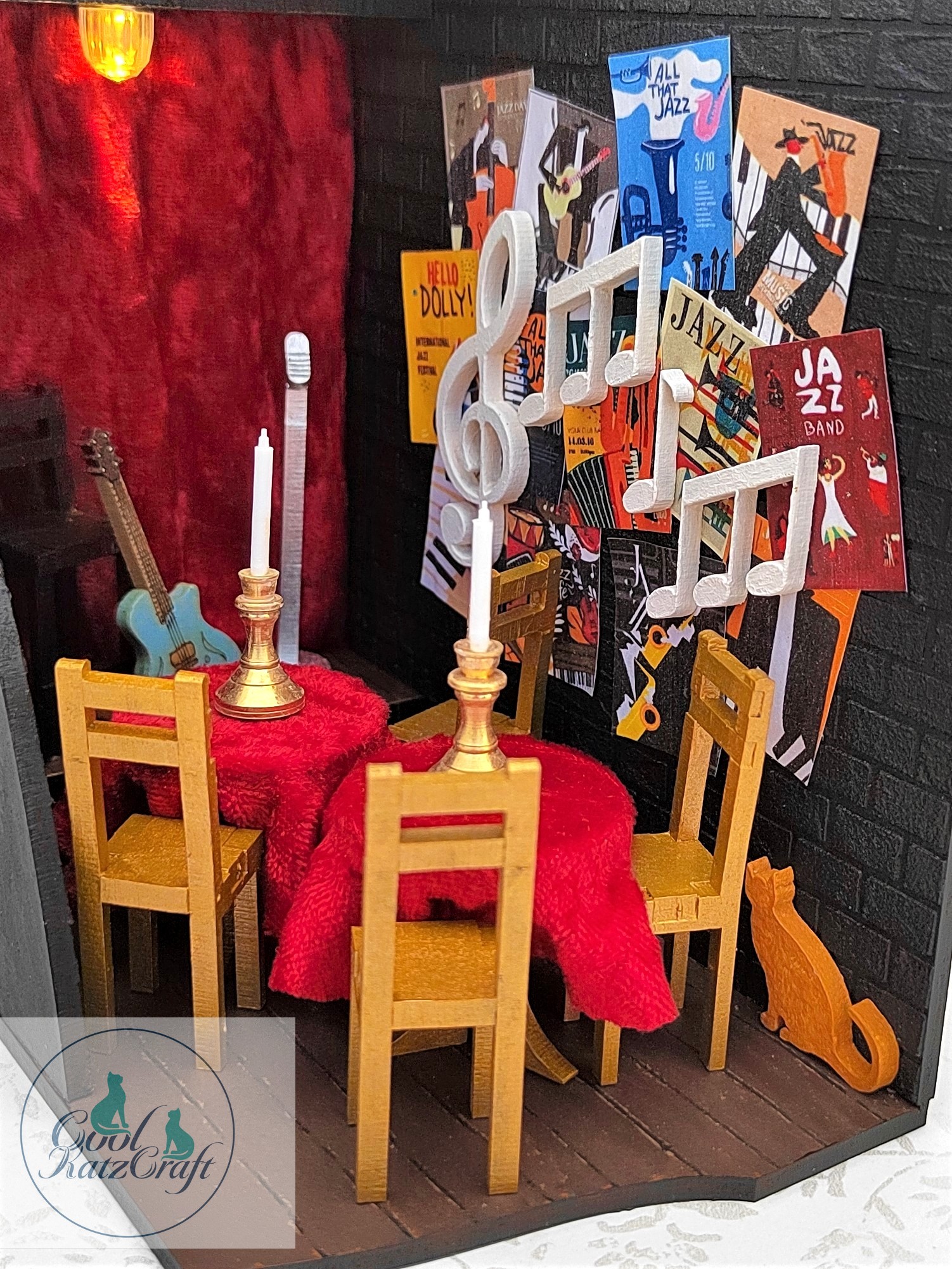 The curtain at the back of the stage was made by cutting two thin batons from some of the leftover MDF onto which was glued gathered fabric. If you are finding it tricky to create the gathers try adding a running stitch along the top and bottom of the fabric, pulling the thread to the length of the batons. Once the fabric is in place glue the batons onto the back wall between the stage and pelmet (where the light is slotted).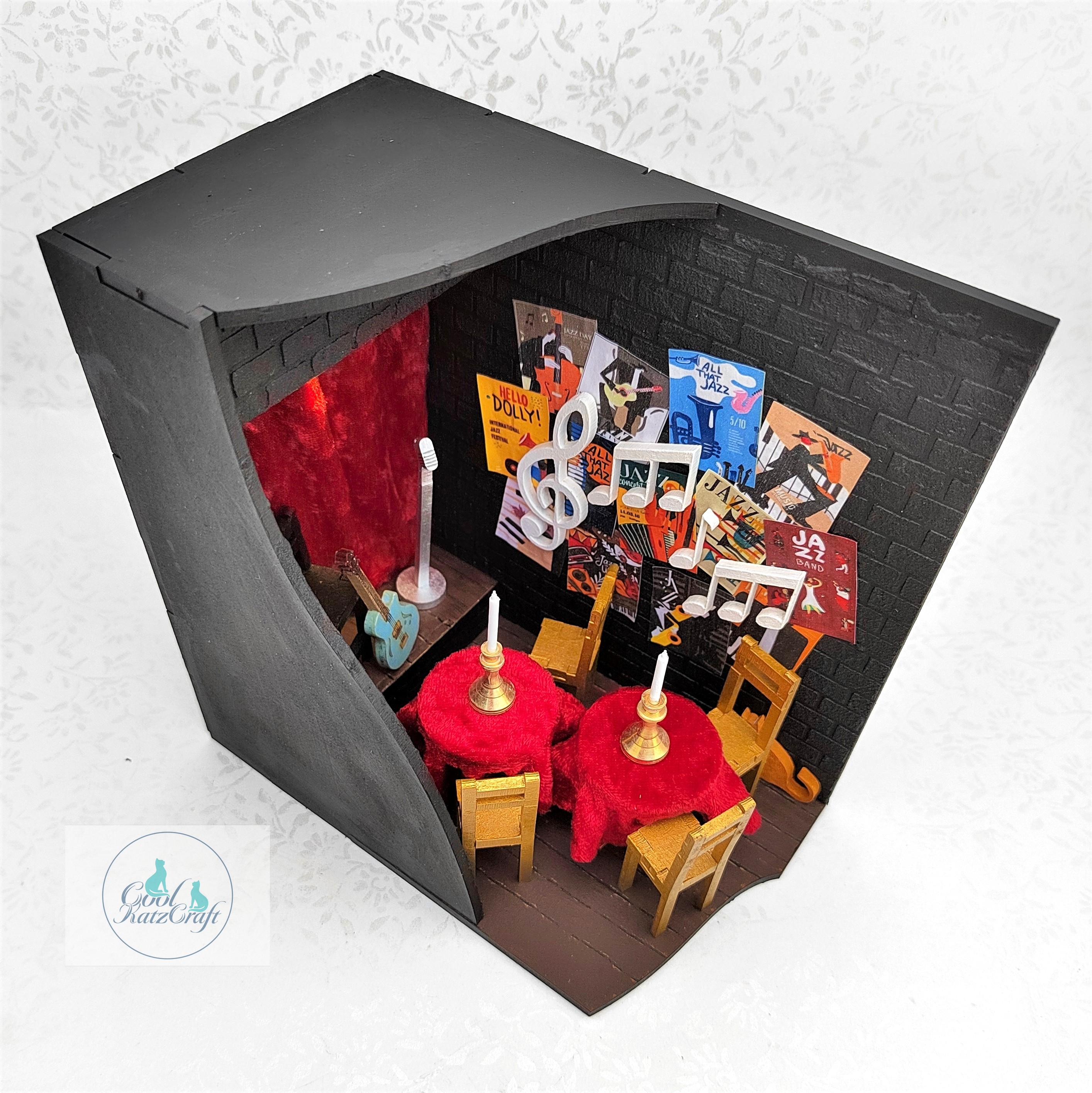 The tables, chairs, the guitar and even a microphone stand are included in the kit so you can set the perfect stage for your performers. Try using Glossy Accents on the guitar to give it a highly polished finish.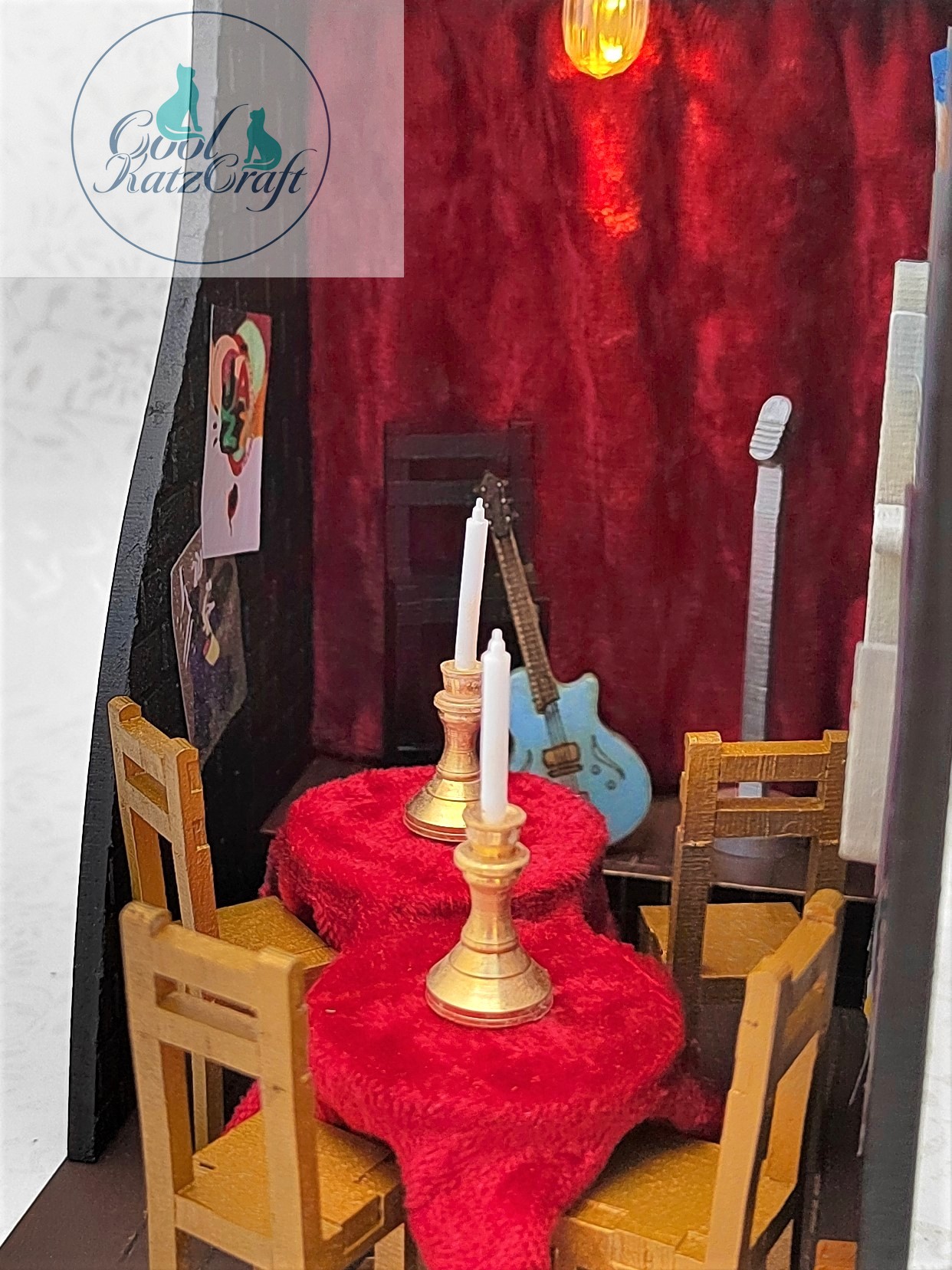 To cover the tables cut circles of fabric larger than the table tops. Try using Sticky Paws Pro Tape around the edge of each table to help secure the fabric in place and make it drape more realistically.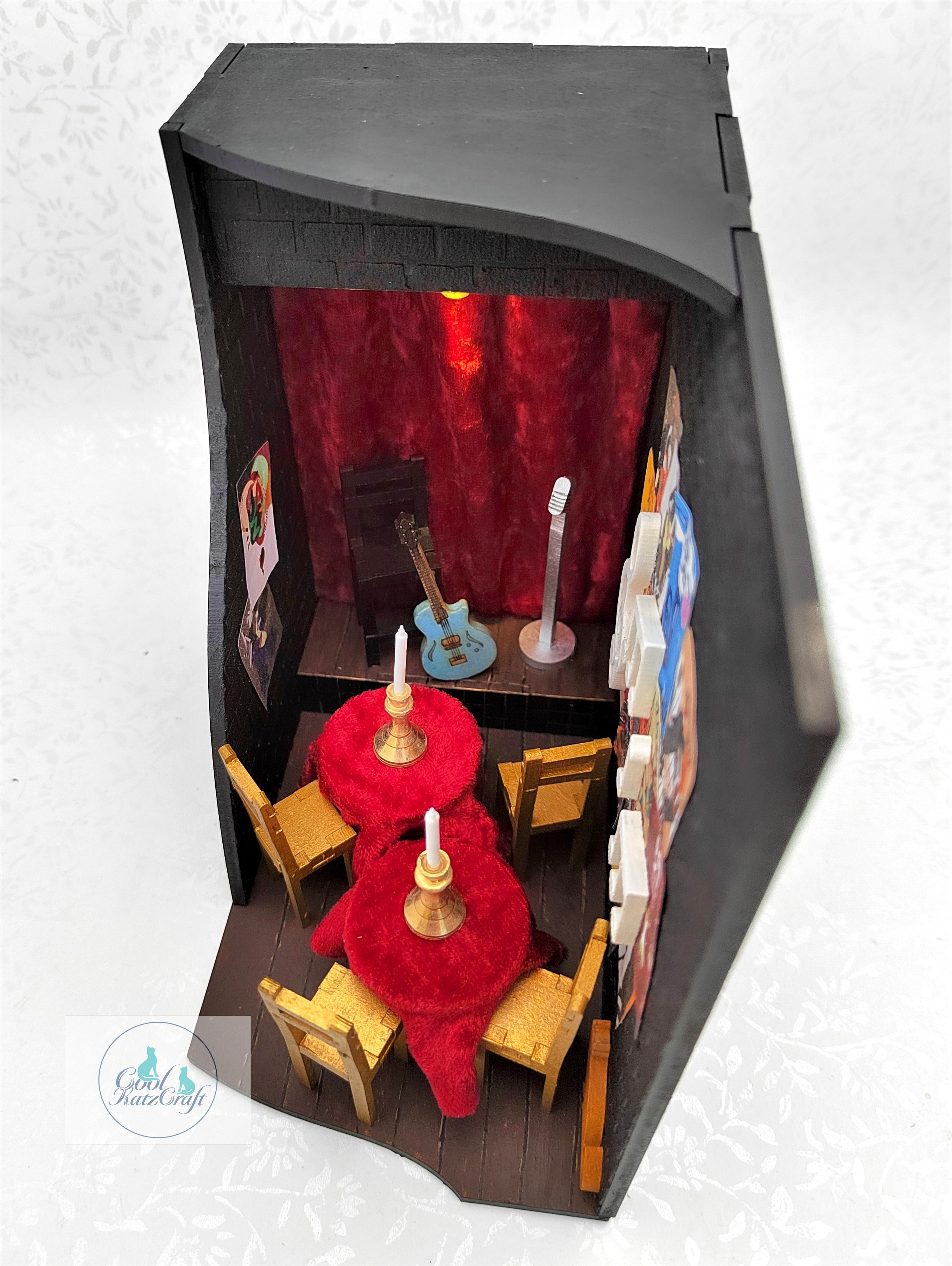 Adding extra decoration to the walls of your club helps to personalise it, making the theme clearer. Use leftover scraps from your decorative papers or find copyright free images to print and cut out.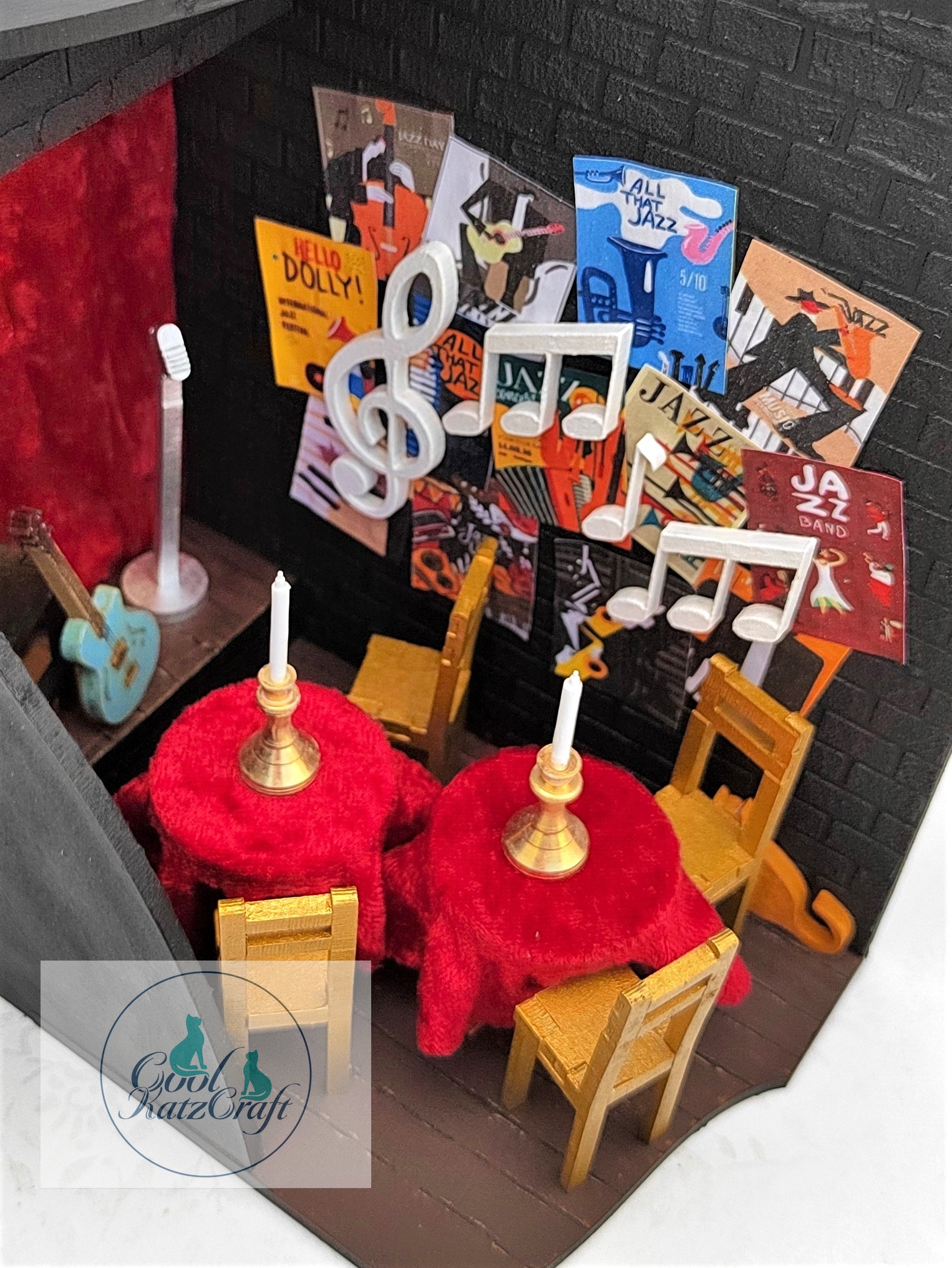 Don't forget to think about how you are going to decorate the outside of your 'On The Stage' Book Nook Intrigue. In this case the black walls were replicated to help draw attention to what was going on inside. Alternatively, you may want to continue the paper decoration on the inside walls, especially if your plan is to display the finished club on an open shelf.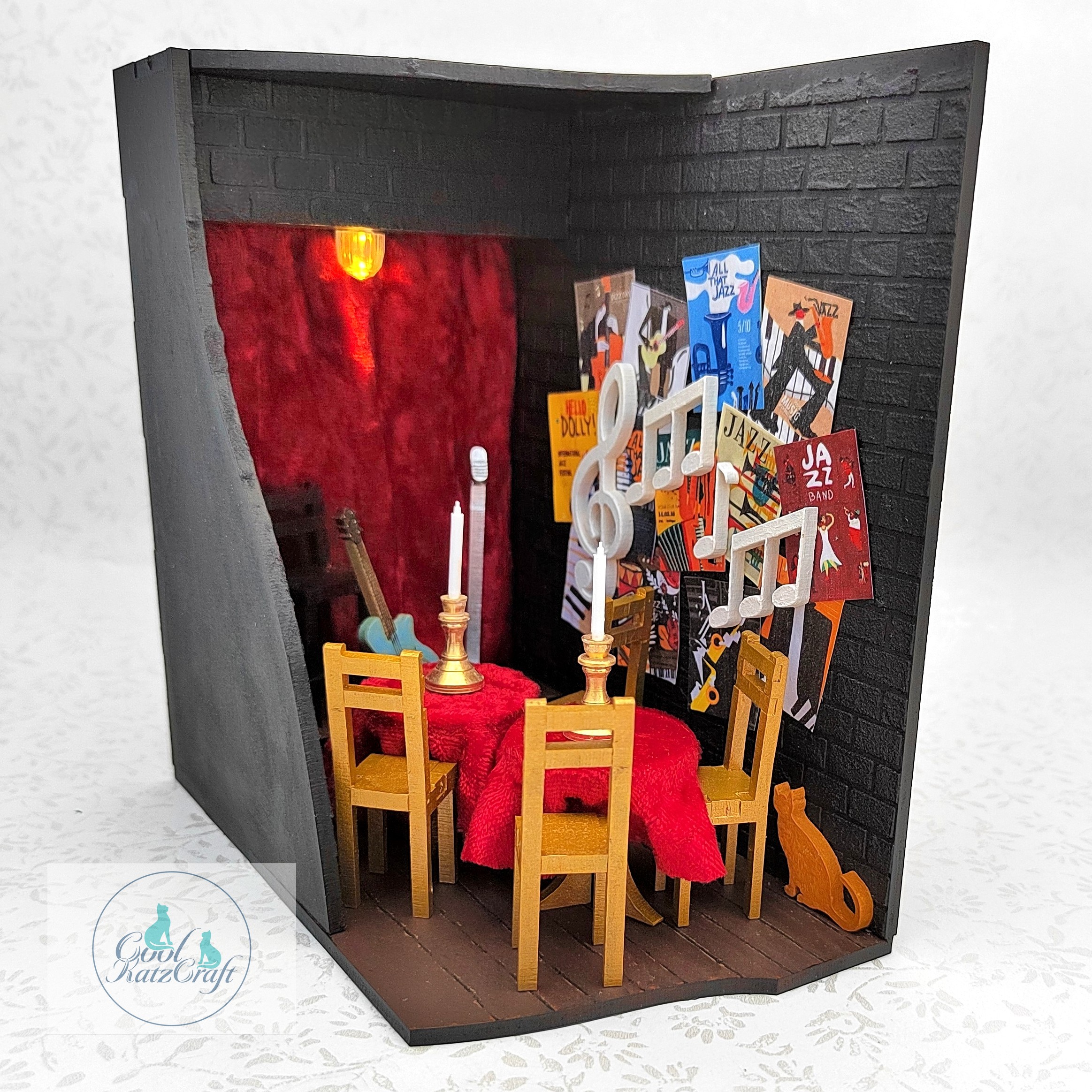 Wow how fabulous is that, someone hs had fun decorating that one! There
will be more samples and close up photo's to come, and don't forget to
share your projects created with the CoolKatz products over on our
Facebook page. You will find all of the links below, including the one
straight to the On The Stage Book Nook on the website.

Happy Crafting

The CoolKatz Team x

https://www.youtube.com/channel/UCHVLrneEbdNJp3EIhJoH4BA

https://www.facebook.com/groups/CoolKatzCraft

https://www.coolkatzcraft.com/book-nook-intrigue-on-the-stage